Our compact round trampoline is suitable for little jumpers and smaller backyards. Designed with plenty of jumping room, this trampoline is the perfect outdoor toy that will make your kids want to stay at home and play. Not only will they want to jump for hours, it's also a fun activity for the whole family.
Every Springfree Trampoline is tgoma ready! By adding an interactive tgoma game system to your purchase we're sure that your kids will never get bored again! With educational games like Repeat Street that help young jumpers learn colours, numbers and letters and Mars Defender that dives into the imagination of defending an alien world, tgoma has games for the entire family.
NO SPRINGS = MORE JUMPING SPACE
The jumping surface of our 8ft round trampoline is equivalent to that of a 10ft round trampoline with springs.
BUILT TO LAST. BUILT FOR LIFE.
Our 10 year world-class warranty covers every inch of the trampoline. from net to frame to mat - we're here for you. it's our years of fun guarantee!
Product Specifications
Make Your Trampoline a Smart Trampoline
Add more fun on your Springfree with the addition of the tgoma accessory! Create a family experience in the backyard that will keep everyone engaged and active for hours.
Learn more about tgoma
Shop Accessories
Get the most out of your Springfree Trampoline with our unique range of accessories. These innovative accessories for trampolines have been designed by our dedicated team of engineers to be specifically used with your Springfree Trampoline.
Shop Accessories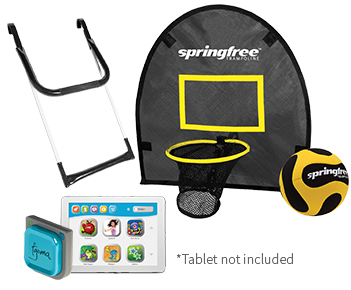 Product Specifications
| Item | Value |
| --- | --- |
| Size of mat ? | 8 ft |
| Surface area of mat ? | 54 ft2 |
| Total space required ? | 16 ft |
| Jumper weight | 175 lbs |
| Structural load capacity | 838 lbs |
| Height of mat above ground | 2.6 ft |
| Height of FlexiNet above mat | 5 ft |
| Total height | 7.5 ft |
Box Dimensions
Item
Value
Number of boxes
2 boxes
Box weights
86 lbs
79 lbs


Box dimensions
67 x 23 x 5.5 in
67 x 23 x 5.5 in


Download Manuals